People like Anthony Robbins and Paul McKenna have made their names by helping people to turn their lives around. They use Life Coaching and NLP to help people achieve success even when they're really stuck. That's similar to what I do - only I work with addicts and other people who are overcoming serious hurdles. I'm a Recovery Coach.
But what Robbins and those other big name Life Coaches don't have is something that most good Recovery Coaches have - and that is experience of addiction.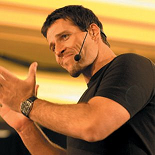 While the experience of life circumstances is not a prerequisite for Life Coaching at all, in the case of addiction, I do think it helps enormously.
Life Coaching, contrary to a lot of popular opinion, does not mean giving advice or guidance, and therefore it is not necessary to have 'gone through' the experiences of your client. Modern Life Coaching is about recognising individuals' patterns and obstacles and helping them to manoeuvre them successfully out of or over them. It's about finding your strengths and using them properly. It's largely a psychological tool.
Most profound change in life comes from shifting your perspective, like those 'Aha!' moments where you finally 'get' something and that allows you to move on. That's what Life Coaching does, except it guides you to those moments much more quickly than if you were just going it alone or asking for advice from friends and family.
Recovery Coaching for addicts is not about following a programme as such. It's about a highly bespoke service, that works with you as an individual, to get you making progress faster than ever.
Recovery Coaching can help you achieve recovery from addiction, and also help you to rebuild your life into something you can enjoy and feel proud of. It can help you overcome that negative mindset of the addict and to grow into the person you were always meant to be.
I believe it is useful for people coaching addicts to have experience of addiction because we addicts often have a skewed way of thinking that pervades even in sobriety - and seems illogical to most non-addicts. Because it is! But I 'get' it, because I've been there, and most good Recovery Coaches will, too :)
But if you have relatively normal thinking, and are just going through a rough patch, such as divorce, bereavement or illness, my experience working with people in difficult life circumstances means I 'get' you too.This email address is being protected from spambots. You need JavaScript enabled to view it..
by Beth Burgess, Therapist and author of The Recovery Formula, The Happy Addict, and What Is Self-Esteem?