Long-term sobriety requires personal engagement in your recovery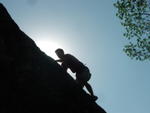 Engaged recovery requires that you constantly learn new, concrete skills which support long-term sobriety. When I think of concrete skills that support recovery, several things come to mind:
Resilience - This refers to a person's ability to cope with adversity, or the ability to bounce back from problems and setbacks. You can develop your own resilience by establishing good problem-solving skills, by seeking help and building social support. Fostering a belief that there are things you can do to manage your feelings and cope, and finding positive meaning in trauma, are other strategies for building your resilience.
Delayed gratification - People use chemicals to change the way they feel, so if you learn skills to act on your emotions in healthy ways, including offsetting a need for immediate gratification, you can manage to fulfill your needs through avenues other than chemical use.
Develop a mission or vision statement - Write yourself a paragraph that creates a framework for your sobriety. My mission statement is as follows: "My recovery is the single most important thing in my life. Anything which jeopardizes this is eliminated."
Developing interests outside of recovery - Getting and staying sober shouldn't be approached as a chore. You can make it fun and enjoyable. Explore new hobbies, interests, and opportunities for personal growth that are not directly applicable to staying sober. Martial arts, films, reading, exercise, voluntary work, cooking or pets are all viable options that could add color and interest to your life while enhancing your chances of recovery.
Good Sobriety Habits - Develop good habits that support sobriety. Assign yourself time to "work" on your program, whether through meditation, journaling, time with a therapist, or exercise. This is an investment in yourself and your success. Practice mindful awareness that you may not be able to control the outcome of a situation, and continue to practice these skills until you can use them with facility and ease.
Affirmations - Using affirmations can be quite helpful. When you develop affirmations, make sure they're worded simply, and in the present tense. They should be specific, concrete, and personal to you. Examples: "I attract all of the resources I need for comfortable recovery. I can trust people. I'm safe. I live in the present moment, and worry is a thing of the past."
Remember, recovery is a dynamic and fluid process, rather than a single event. Be mindful that, throughout your life, you will continue to learn skills to support you as a well-rounded, healthy person. Develop enthusiasm and add good habits to help you build and maintain a rock-solid program of recovery.
Todd Branston has been working in the field of addictions for over 27 years and is the Director of Counseling for a large chemical dependency hospital. He is part of an experts forum on chemical dependency and runs the chemical dependency program to support people to overcome homelessness. He currently runs a weekly podcast on addiction and mental health. His sense is that sobriety is a skill and that recovery looks different for everybody. Check out his podcasts at askanaddictioncounselor.com.