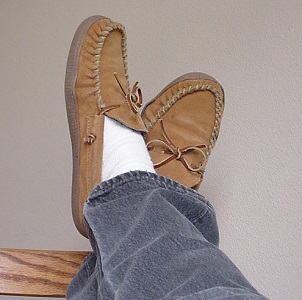 Why is negativity like an old pair of slippers? Because it's sooooo comfy. You may find you've been in it so long, you're used to it – even when it hurts you sometimes, you ignore it because it's the way you've always been. And well, it's just you.
Maybe you don't think you're particularly negative – but sometimes we do go around in life blithely unaware that we are filtering the world through an attitude of pessimism, victimisation and negativity.
Are you actively practising gratitude? I say 'practising', because it takes a while to get good at it, to get comfy in it and to appreciate it. Kinda like the new slippers your other half well-meaningly bought you because your old ones were falling apart. You don't really even want to try them on, do you?
But one day, you think it'll make the other half happy, so you pop the new slippers on, grumbling all the way. And surprisingly, mmm they're not that bad. They don't feel the same as your trusty old slippers, but maybe....
And then a little while down the line, you never even notice that your beloved old slippers have gone for good.
A gratitude list is a great way of practising – see if you can write a list of 100 things that you are grateful for right this very moment. If you have trouble coming up with things, look around you to see what others have that you don't and look close to home to see what you may be taking for granted.
You may find that you start writing things and then want to erase them – I'm grateful for my car. Hmmm, yeah but if I could afford a better car...Just gently push those negative thoughts to the side and be grateful for what you have in the present moment.
If you commit to writing a list of 10-20 things you are grateful for every day (decide on a number that suits you and stick to it), it actually changes your brain and re-wires it over time.
Acknowledging what you are grateful for creates new neural pathways, which in turn influences the way you think. You'll be more open to opportunities, find it easier to see the good in situations, and you'll be happier overall.
Take the time to be grateful, and you'll find you have a whole lot more to be grateful for.
by Beth Burgess, Therapist and author of The Recovery Formula, The Happy Addict, and What Is Self-Esteem?