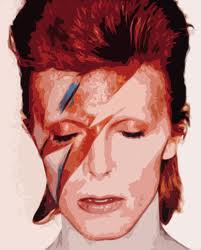 Alcoholics and David Bowie Fans
So, 140 million – it's a pretty large number, right? It's the number of records both David Bowie and Barbara Streisand have each sold, the number of people who watch the Superbowl, and also the number of tweets sent every day last year.
In terms of population, there are 140 million inhabitants of Nigeria and also 140 million living in Russia. It's the number of people who have downloaded Angry Birds, the number of people in China who own a car and the cost of the most expensive house in Britain in pounds sterling.
Did you know that according to estimates from the World Health Organisation, there are also 140 million alcoholics worldwide?
I only play a part in two of these statistics. I tweet and I'm an alkie. No, I can't believe I never bought a David Bowie album either...
Statistically you are just as likely to become an alcoholic as you are to own David Bowie's greatest hits. While you probably know if your mates like a bit of Ziggy Stardust, you may know an alcoholic without even knowing they are one.
Alcoholics come in many shapes, sizes, ages and colours, both genders, all nationalities, all professions. Many of us hold down jobs and have families. Some of us are in recovery, some of us are not, some of us are trying our damnedest but still not staying sober.
Luckily for me, I am at a comfortable point in my recovery that I can happily hang around pubs and not drink – but people still try to make me! "Oh go on, lighten up. Just have one..."
Alcohol is everywhere, it's accepted and acceptable. I often feel sorry for us alkies – after all at least recovering heroin addicts rarely get people trying to force them to shoot up at a work party or get called a 'square' at the pub because they refuse the offer of a 'sociable syringe'.
I am very open about my recovery, but others may be reticent and not want to share why they're not drinking. My point is, if someone is not drinking, please don't pester them about it. Don't assume they're an alkie - they may well be driving, or not like alcohol or (jeepers) just NOT want a drink.
If someone says 'No' to a drink, leave it alone or offer them a 'sociable' soft drink instead. You never know when your 'sociable' egging on might be the difference between relapse and recovery.
by Beth Burgess, Therapist and author of The Recovery Formula, The Happy Addict, and What Is Self-Esteem?