So the festive season is upon us. It's coming up to Christmas and you're already feeling the strain. Christmas is a stressful time for most people, whether you have the added pressure of some kind of mental health problem or not.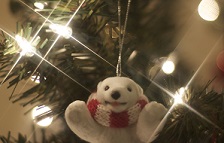 If you aren't in a particularly good space, the enforced jolliness and busy atmosphere can make you feel particularly alone. Many of us have some difficult Christmas memories to deal with, and the festive season also tends to remind us of the people we can't spend it with any more.
Then there is all the concern about "getting Christmas right", remembering to buy cards and presents, coping with crowded Christmas shopping areas and relatives who seem to get on our last nerve.
So what can you do if your mental health is not amazing at Christmas? Here are some tips to help you cope:
Take care of your body: Our bodies and minds are very much connected. If you take care of your physical health, you'll be much more able to cope with your mental health. Get enough sleep, eat nourishing things and don't use alcohol or sugar to cope with stress. A brisk walk or some deep breathing is a much better stress-busting option than using substances, which will just make you feel yucky later on.
Take it step by step: Remember that every day is only a stretch of 24 hours, each of which is made up of 60 minutes. Which single minute has the power to make you lose it? If you're feeling overwhelmed, remember that it's only for a short period of time.
Get support: If you know you may feel cruddy over Christmas, make sure you have access to people who will support you. Have telephone numbers handy of friends or services who can lend an ear and keep you sane.
Do something different: If you suffer in the same way every year, why would you expect things to change if you don't do something to change them? If you really hate Christmas, spend it with different people, go on holiday or volunteer for a charity instead. Do something different mentally as well. Try to think in a different way – focus on the positives rather than the negatives. Remember all the people and things you are grateful for instead of looking at who is missing or what you lack.
Keep it in perspective: Remember Christmas comes just once a year, so it'll be over fairly quickly. Think of how proud you'll be of yourself for making it through - and soon it will be a New Year, with the chance to start afresh! :)