Just like the song by the late Amy Winehouse, when I was told to go to rehab, I also said "No, no, no." In fact, I think I used much stronger terms than that. Something more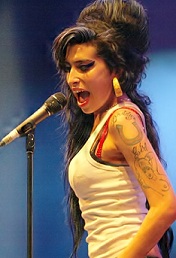 along the lines of "Not on your effin' life!"
I eventually found my recovery without rehab, but does that mean that everyone can get over an addiction without inpatient help?
The important thing to remember, whether you go to rehab or not, is that you can not beat an addiction alone. Well, you can, but it will be flipping hard work. It's hard anyway, so why make it harder? There are always times, especially in early sobriety, when you want to jack it all in, and it is super-useful to have support for these trying moments.
Inpatient rehab is very helpful for people who feel they need 24/7 help to stop drinking or using drugs and may need further physical or mental health care. It is possibly the safest place to be if you really have got yourself into a horrible mess and have no clue how to get out of it.
If you choose not to go to rehab, then make sure you have some sort of support network you can rely on, preferably made up of other addicts. And make sure you work on your addiction with someone who knows what they are talking about.
If you live in the middle of nowhere, then there are some brilliant addiction and recovery forums that you can join. If you want to meet up with other addicts, recovery groups and Fellowships can offer some wonderful support.
I was put off rehab by tales of people going in and out repeatedly and making little progress. I have come to understand that this is because rehabs sometimes do not explain why the rules are there, what the point of it all is, and what you're supposed to learn.
I have written a book which will help anyone trying to get clean and sober, whether in rehab, or without it, to understand the fundamental things you need to learn in order to stay sober in the long-term. Things I took a long time to discover, no matter what treatment I tried.
The Recovery Formula is the book I wish I had had when I started my journey to recovery, and it's out now. Join my newsletter for the latest updates on all forthcoming books!
by Beth Burgess, Therapist and author of The Recovery Formula, The Happy Addict, and What Is Self-Esteem?