Mindfulness meditation is a tool I often use with clients who see me for addiction issues. So what is Mindfulness meditation and why is it useful for addicts?
I remember when I first heard of meditation, I thought it was a load of pointless nonsense practised by people who were just a bit too fond of Lycra for their own good.
But I have now come to use Mindfulness as an essential part of my own recovery from addiction and Borderline Personality Disorder, too. The clients I have used it with have also seen the great benefits of Mindfulness.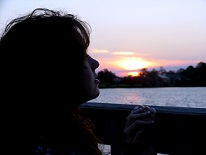 The essential practice of Mindfulness meditation is to focus very precisely on the present moment, on yourself, how you feel, on your presence in the world. With Mindfulness, we try to let go of anything that is not happening in the present moment, and often this can be achieved by focusing our attention on our own breathing, which is always happening in the present.
Mindfulness is not the sort of meditation that is designed to make you feel peaceful, although it certainly can do that at times. It can give you a moment of reprieve if you are struggling with what may be going on in life, because the point of it is to ground you in the present moment, rather than worrying about the past or future.
But really, Mindfulness is useful for addicts because it's all about 'checking in' with yourself. Often we can build up stress or anxiety over time without even realising what is happening to us - and that can lead to relapse if you're an addict, or a meltdown for people with mental health problems.
Another useful benefit of Mindfulness is that every time we do it, we are training our brain, taming its capacity for running away with harmful thoughts and obsessions. By bringing our attention back to the present moment, or our breath, over and over again, we are saying to our brain that we are taking charge.
If you want to try Mindfulness meditation for yourself, check out my free Guided Mindfulness meditation MP3s.
by Beth Burgess, Therapist and author of The Recovery Formula, The Happy Addict, and What Is Self-Esteem?