Even as a Life Coach I'm not afraid to admit that I really hate Christmas. And although people may try to put on a festive front, I know that there are others who feel the same way as I do.
While Christmas is supposed to be a time of goodwill and gratitude, for a lot of people, the holiday season can be fraught with tension, stress, anxiety and even depression.
Most of us are cajoled into buying presents we can't afford, going to parties we feel uncomfortable at, and hooking up with people we avoid the rest of the year. Coupled with the gloomy winter weather and the incessant Christmas build-up, by December 25th, it's no surprise that some of us are already waiting for the New Year.
The extra burden of Christmas can bring on feelings of disappointment and unease, precisely because of the expectation that everyone 'should' be having a good time. If you are having a less than merry time at Christmas, it feels more pronounced because all the adverts are telling you 'Tis the Season to be Jolly'.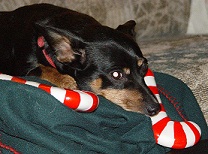 So what can you do if the Fa-la-La has gone out of Christmas?
- Remember that you are not alone. While Christmas is traditionally a time for families to get together, some of our deepest wounds in life are related to those close to us. Many people will feel the extra pangs of pain as they remember those who aren't around any longer. And the rifts caused by family politicking can cut extra deep, as you try to keep everyone happy. You're not the only one who feels this way - some just hide it better than others.
- Christmas can bring extra pressures to overindulge in food and drink, but remember that a healthy body helps to create a healthy mind and no time of year is an excuse to poison yourself.
- Make sure you get regular sleep. Although Christmas is a holiday, often we are so busy with preparations, we forget it's also a time to rest and relax.
- Remember that a lot of this pain is caused by expectation. But you have nothing to live up to! Do Christmas your way. I volunteer at a homeless shelter every year. Do something different if you want to. You don't have to conform at Christmas if it makes you miserable.
- Remember that Christmas really isn't about gifts, overindulging or impressing anyone. It is a time to practice gratitude for what you do have. Show people you love them and spend time with those who matter. Give from your heart, rather than your wallet.
by Beth Burgess, Therapist and author of The Recovery Formula, The Happy Addict, and What Is Self-Esteem?